We are happy to announce that the storytelling travel blog Singapura has been nominated for the Liebster Award.
Heartily thanks go to Sarah from The Wandering Welshie blog, who nominated our website. Sara is a law graduate with many hidden talents (well, maybe not that hidden anymore)– such as hula hooping and powerlifting. On top of it all – she is an avid traveler and an awesome blogger.
What is the Liebster Award?
The Liebster is an award that exists only on the Internet and is given to bloggers by bloggers. Legend has it that the earliest award goes back to 2011. Liebster in German means sweetest, kindest, nicest, dearest, beloved, lovely, kind, pleasant, valued, cute, endearing, and welcome.
The rules of the Liebster Award Nomination:
Post the award on your blog so everybody knows how awesome you are
Publicly thank the person who nominated you and link to their blog
Answer their questions about yourself, feel free to add photos!
Nominate 3-5 people with less than 1000 followers, inform them via social media
Write your own set of questions for your nominees
Feel good about yourself for winning an award and passing it on
Questions from Sarah:
1. How did you come up with the name of your blog?
Singapura (singa – lion, pura – city) is the Sanskrit name of the country we live in since 2011. Singapore is the heart and the axis of the blog, but its separate sections take the reader for the journeys all over Asia.
2. What made you decide to start blogging?
It started off inconspicuously – by reporting our daily life in Asia to family and friends. The first version of the blog attracted the attention of Polish travel guide publisher who offered to work with us in creating a guide for Singapore and Malaysia. This inspired us to move from diary for family and friends to the platform with storytelling travel articles for the wider public.
3. What has been your best travel experience so far?
It is hard to answer unequivocally because every journey brings something unique and amazing that stays with you forever. In China, it was an expedition to the unrestored part of the Great Wall of China, in Indonesia – a night trek to the sulphur mines in the volcano, in Burma – vast plains dotted with thousands of temples of Bagan, in Nepal – trekking through the Annapurna mountain range. More importantly, though, it's all the amazing people we meet on our way. People who teach us about their culture and customs, open their homes to us, and treat us like family.
4. Where is next on your wish list?
We are just in the midst of planning a two weeks trip to Sri Lanka. In a slightly more distant future, we think of visiting Iceland. And as a long-term goal – we want to move into a campervan and travel around the world. 
5. Who is your favourite person to travel with?
From the perspective of the person writing these words – Aleks – with the most annoying man I have ever met. It happens that this man is also my husband. Annoyance aside – Andrzej is my soul mate who complements me in every aspect of life, blogging also. His phenomenal photos and travel videos are eye candy. I cannot imagine any journey without him – it wouldn't bring the same joy.
6. What is your favourite aspect of travel?
Getting to know new people and cultures. Opening to the unknown and continuous learning about the world. During one week's journey, we are able to learn more about the country, its inhabitants and their customs than during one month of studying books about it.
7. Are you more of a city or a wilderness person?
Definitely wilderness with as much fauna as possible – any fauna. Again, this is from Aleks's perspective.
8. What useful item do you always take with you traveling?
First aid kit, equipped with Band-Aids, disinfectants, and pills against hmmm … stomach issues.
9. Who are your favourite bloggers?
It is hard to list them all but the most inspirational are:
Marcin Wesołowski author of the Wojażer blog (Polish)
Matt author of the Nomadic Matt blog
10. What advice would you give to new bloggers starting out?
It may sound like a cliché, but follow the heart and what the soul dictates. If blogging makes you happy – do it. Learn from others, find your style and enjoy the fact that you have the opportunity to do what you love. Don't get me wrong – blogging can be truly frustrating experience – fighting the blank page, time constraints, etc. But, oh man! It is so worth it.
Singapura's nominations
Below is the list of blogs that impressed us the most:
Go Eat Explore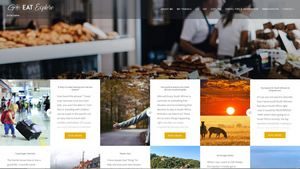 Go Eat Explore – a blog run by Adele, who spends most of her time planning the next trip. She loves traveling just as much as good food – hence the name of the blog. Its purpose is to exchange experiences, inspirations and travel advice.
Starym Fordem Przez Europę

Starym Fordem Przez Europę (Polish) – a three-person family – K., Renatson and a son called Frog. Together they have traveled over 200 thousand km. Usually, their expeditions begin with a session over the map of Europe. Everybody points to a place interesting to them, and after connecting these with a marker pen, the route of the journey conjures. They love nature and architecture. Some of the experiences they immortalize in the form of phenomenal sketches.
Podróżozbiór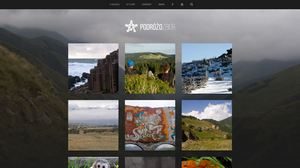 Podróżozbiór (Polish) – travel and collection, or collection of the travels. They describe what drives and annoys them, intrigues and irritates. The blog is about their travels small and big, far and near, musical and physical, culinary and intellectual.
My Travel Experience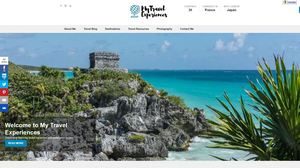 My Travel Experience – Rémi's dream is to visit all the countries of the world. A passion for travel he matches with a professional vocation. So far he has visited over 30 countries and 4 continents. The blog describes his travel experiences as well as tricks and tips for globetrotters.
Here is a list of questions for you guys to answer:
1. What are the challenges when blogging and how you overcome them?
2. Where do you see your blog in 2 years' time?
3. An adventurer that inspires you?
4. Where does your passion for travel and blogging come from?
5. How do you plan your trip? Spontaneously or meticulously?
6. What book would you take with you on a deserted island?
7. How do you decide on next travel location?
8. The biggest travel disappointment?
9. Number one travel tip?
10. What can you not travel without?